Copi Kids Wedding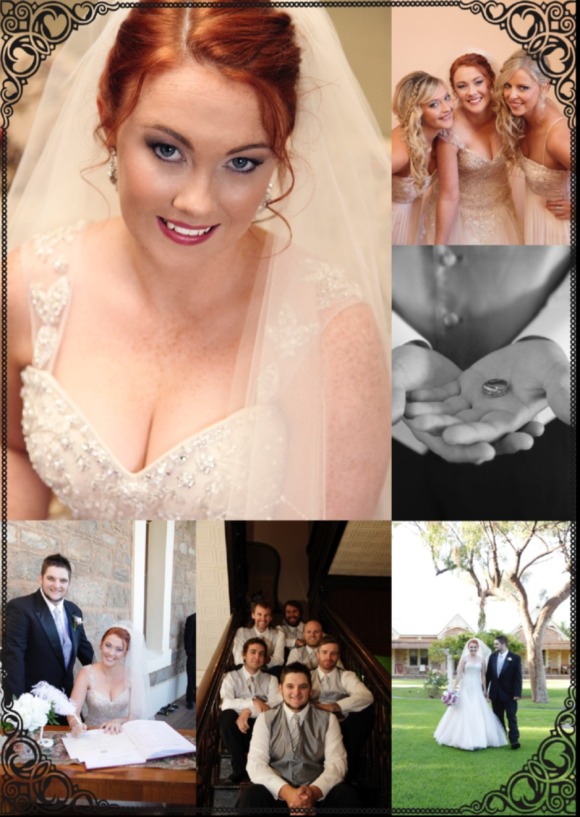 What once were Copi kids, now Copi Adults Corey Schultz (son of Gordon Schultz and Alison Borlace, both ex Copi members) and Hannah Squire (daughter of BHSBC members, Sandra and Brad Colley) became Mr and Mrs Shultz on the 19th of April 2014 at the Convent Garden in Broken Hill on a gorgeous
sunny day.
Hannah looked stunning in her champagne wedding dress with sparkling beaded fitted bodice which flowed into a skirt of layered blush chiffon which threw colours of soft pink, cream and soft purple. Hannah hair looked lovely in an up style with a beautiful diamente clip and veil edged in sparkles. She held a bouquet of purple and white roses with her great grandmothers hanky.
Hannah's bridesmaids were: Maggie Squire (Hannah's sister) and Laura Kelly (Hannah's cousin). The bridesmaids looked beautiful in their dress which was the same colour as the bride, with shoe string straps, beaded bodice, floor length dresses. The bridesmaids wore a wrist corsage which were a smaller version of the brides bouquet with diamanté wrist band. Hannah mentioned that she bought her wedding dress from Melbourne and that it was only the fourth dress she'd tried on, she said she instantly knew that this was her dream wedding dress as soon as she had tried it on. The bridesmaid's dresses were also from Melbourne.
Corey's groomsmen (and best friends) were: Mitchell Robinson, Martin Biggins, Ben Degoumois, Simon Clemens and Kyle Barrie. Corey looked handsome in a black suit with silver vest and silver pinstriped tie. The groomsman were dressed in black suits to match the groom, with silver vest and silver tie.
Hannah and the girls were pampered by Brodee Kernaghan, makeup (Beauty by Brodee) and Bree Lithgow, hair (Teaze Me) and as traditionally prepared and left from Hannah's parents family home, while the boys prepared and left from the Imperial Hotel, into the waiting cars picked by Corey all Fort GT's. Photographer, Caitie Carlon (Three Links Photograpy) photographed the wedding at the Convent Gardens, inside the convent, at the junction lookout and in the Perilya's Mine Managers home (Hannah's bosses home).
The reception was held at the Broken Hill Golf Club where the function room was decorated in black, crystal and purple. The cake table was showcased a family air loom table cloth which has been used in all their families weddings. The reception was catered by the Gourmet Chef. Hannah's said her cousins performed a rap at the reception about the bride/groom lives together, which made the night very entertaining.
After a perfect wedding the couple left Broken Hill for their Honeymoon in Phuket for10 days and stayed at the Katathani Resort.
The Broken Hill Speedboat Club Committee and members would like to congratulate Corey and Hannah on their marriage and wish them happiness and success in their future.
This entry was posted on Wednesday, May 20th, 2015 at 1:23 pm
You can follow any responses to this entry through the RSS 2.0 feed.